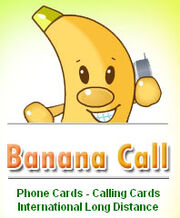 BananaCall
is an online phone cards store that aims to offer you the highest quality service, maximum convenience and some of lowest rates on the market of prepaid calling plans.
With several years of experience in providing carrier services, BananaCall now aims to offer its tailor-made services to the end-user. Supported by our own facility-based carrier division, we offer our customers calling cards that they can purchase rapidly and securely, through the safest online payment processing system. Get excellent domestic and long-distance services without changing your existing provider!
BananaCall puts customers first. Our website provides you with a secure, innovative online shopping experience so it's easier than ever to buy a card online. We stand behind our products so we offer a 24 hours a day, 7 days a week customer service support line. Our friendly representatives are here to help you with any inquiries you might have about our products or service. We're constantly working to get the best rates at a clear quality any time, anyplace you might be.
On BananaCall, we also feature a special free trial offer for new customers (it grants you 5 or 10 minutes to the destination of your choice) and also discounts of $10 for the first order placed (more information available on our website: http://www.bananacall.com).