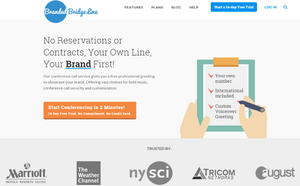 Branded Bridge Line is a global, cloud-based conference call service from Ubiquitous Innovation, LLC., a privately held company in Atlanta, Georgia. Ubiquitous Innovation is a SaaS and Mobile development company founded in 2010. Branded Bridge Line was created in response to the FCC rulings to impose stricter limitations on Traffic Pumping or Access Stimulation . Until 2011, telephony services, including conference calling, could make arrangements with CLECs to share access fees paid by long distance carriers to the CLEC for terminating calls.  In 2011, the FCC began tightening guidelines(1) around these practices due to the burden they placed on consumers.
Branded Bridge Line introduced the idea of branding a conference call with the customer's brand rather than the conference call service brand and was able to achieve this by providing dedicated phone lines rather than shared lines used in Traffic Pumping-based services.
The co-founders of Branded Bridge Line are serial entrepreneurs Graham Street, the former director of development at Definition 6 and Tammie Childs. Branded Bridge Line was created out of the need for a branded conferencing experience for businesses of all sizes, from startups to large global enterprises.  The company was launched in June 2012(2)to a group of entrepreneurs based in Atlanta and has since grown to a global brand.  
The service focuses strictly on audio conferencing and has been integrated into other services requiring audio conferencing. Features are designed to meet specific workflows in various markets including High Tech, Financial, Medical, Legal, Entertainment, Teleseminar, and Non-profits.
Branded Bridge Line is among a wave of SaaS conferencing services that provides a user interface to manage calls.  The service can be used as a traditional conferencing service without the interface, using a phone to call the conference number.  Users can also join the conference from a computer or using an iPhone app.  The ability to dial out to add participants is also available.  International conferencing is achieved by providing dedicated lines in the countries or regions of the callers and tying them together into one conference.  This eliminates the need for callers to incur long distance or international calling fees.
Branded Bridge Line provides professionally recorded messages to its subscribers that can be used as the branded greeting to the conference.  The service is designed to highlight the subscriber's brand and add polish to the company using the service.  Hold music can be customized and [https//en.wikipedia.org/wiki/Personal_identification_number Personal Identification Numbers] can be turned off to make calls easy to access.
See also
Edit
References
Edit
(1) FCC Guidelines
(2) Crunchbase
External links
Edit