This article does not adequately describe the pricing and availability of this product.
You can help by starting or expanding a list of retailers that carry this product, areas they serve, and their prices for this product. Where possible, list at least two competing sources in every primarily-English-speaking region of the world.
This article lacks important quantitative information about this product.
You can help by adding dimensions, capacity or other specifications.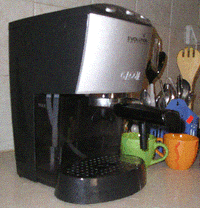 The Gaggia Evolution is a compact espresso maker, with a modern yet elegant design. The Evolution is a semi-automatic espresso maker, which means the the way it is operated is very similar to that of a professional espresso machine. As a result, with some training, you can use it to prepare espresso beverages, such as cappuccino and latte, of an almost professional quality.
Coffee for two
Edit
The compact and modern designed Evolution is especially suited for couples who like starting their day with a good cup of coffee. It takes about 10 minutes to make the first two cups of cappuccino, starting with a cold machine, so even if your are in a hurry you can still make it to a coffee for two.
Of course you can make coffee with the Evolution for a larger crowd, but not much larger. There is no official capacity limit (although Gaggia's owner manual warns that the machine is only suited for home use), but making a round of more than 4-6 cups may be quite a bother, especially if you are using the milk steamer.
The operation of the Evolution is quite easy, but if you want to take the best out of it, you will need to make some effort and learn the basics of the "espresso making ritual". For once, this means that you will have to read the operation manual and follow the operation instructions almost by the word. But that is not enough - you will also have to learn how to select ground coffee, and - the part that most people find the most challenging - learn how to steam milk. The Evolution is not a forgiving machine, but if you are willing to make the effort and learn how to use it, it will reward you with great results
Advantages
Edit
The greatest advantage of the Evolution comes from the combination of its modern design and its traditional operation principles. Because of this combination, and especially the semi-automatic operation mode, you have a good deal of control over the result and can truly call it your own creation.
Disadvantages
Edit
The semi-automatic control described above is a mixed blessing, because it makes coffee making a slow and tedious routine for those who are in a hurry or less fussy about their coffee.
Disadvantages come from the compromises that Gaggia had to make in order to condense the qualities of their professional machines into the size (and the price) of a machine for home use. Gaggia's professional machines use a large boiler and an external piston that re-condenses the steam into a hot water aerosol.
| | |
| --- | --- |
| | Note: The latter has been unique to Gaggia since founder Achille Gaggia patented it in 1938. |
In the home use machines, the same effect is achieved by a combination of a small boiler and a unique water pump. The pump is noisy and the usage of a small boiler causes a considerable waste of water (not that you should care about the water so much, considering the fact that we are talking about home use, but this means more cleaning up and sensitivity to corrosion). Another related compromise is the extensive use of plastic in the Evolution which puts doubts about its life span.
Who should choose the Evolution
Edit
If you like not only drinking espresso and espresso based drinks but also like making them, especially for you and your significant other, the Gaggia Evolution certainly stands out as a good choice in its price group. It is, after all, a Gaggia - Elegant, well equipped and made for excellent results.
Who should not choose the Evolution
Edit
If you look at your cup of coffee more like a quick get going thing just for yourself, or you make coffee for parties or other large groups, another brand will probably suit you better.